This is an archived article and the information in the article may be outdated. Please look at the time stamp on the story to see when it was last updated.
A San Ysidro woman who had the world stacked against her is getting ready to go to Harvard University to get her master's degree.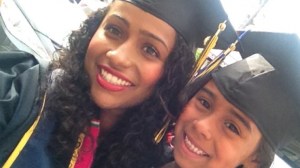 During her sophomore year at San Ysidro High School, Julissa Muniz found out she was pregnant. At the time, Muniz was part of the girl's basketball team, a straight-A student and the class president.
Muniz made the difficult choice to stay in school and keep her baby.
"I knew that I couldn't give up on school, because that was my pass out of here," said the now 24-year-old Muniz. "I wanted her to have a better life than I had. I grew up in a single-parent household and financially, my mom always struggled — she didn't have a high school diploma. I didn't want her to feel the hunger that I felt."
That summer, the then 16-year-old gave birth to her daughter Amaris Gonzalez. She continued to go to school during the day, worked at night and managed to maintain a 4.6 GPA.
I always knew I was going to go to college so having her just solidified that. I knew I had no other option," Muniz said.
After high school, she was accepted into eight universities and chose to go Berkeley.
"I was still 18, [Amaris] was two … we were thrown into the city, we didn't have a car, we barely had furniture," said Muniz.
She had the support from SPARR program for student parents and was able to receive financial aid, housing and childcare.
After four years of studying at Berkley, she and her daughter are now headed for Massachusetts where Muniz will complete her master's degree in education.
"When I wanted to read to her out loud and I asked her if she was busy and if she was, I would read to myself," said 7-year-old Amaris Gonzalez.
Muniz also credits her San Ysidro High School principal and teacher who never let her quit.
"We also need to recognize the Latino community where she came from … sometimes our kids don't see that pot of gold at the end of the rainbow and she never took her eyes off of that," said principal Hector Espinoza.
Once she completes her PhD at Harvard, Muniz plans to work in public policy to ensure the system that worked for her works for others.
"That wasn't the same experience for my cousins or brothers or a lot of people that I love; many of them had a negative experience with education," said Muniz.
Despite her accomplishments, she considers her daughter as her greatest achievement.
The mother and daughter are headed for Harvard in a couple of weeks. You may contribute to their journey through their Go Fund Me account.