This is an archived article and the information in the article may be outdated. Please look at the time stamp on the story to see when it was last updated.
An autopsy was completed Thursday for a 23-year-old Westminster woman who died after a violent beating outside a Santa Ana nightclub.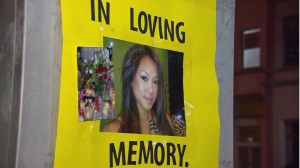 Annie Kim Pham died of complications from blunt-force trauma to the head, according to a news release from the Santa Ana Police Department.
Pham had been pronounced dead Tuesday after being taken off life support.
She was hospitalized early Jan. 18 after a fight broke out in front of The Crosby in Santa Ana's historic district.
Vanesa Zavala, 25, pleaded not guilty Wednesday to a murder charge in Pham's death. She was being held on $1 million bail.
Zavala was one of five people being sought in the beating, according to Santa Ana police.
Two $5,000 rewards were being offered for information leading to the arrest of the other attackers.
Anyone with information about the beating was asked to call Santa Ana police detectives at 714-245-8390 or Orange County Crime Stoppers at 855-847-6227 (855-TIP-OCCS).
Police said patrols had increased in the area where Pham was beaten, in the 400 block of North Broadway (map).