This is an archived article and the information in the article may be outdated. Please look at the time stamp on the story to see when it was last updated.
Update: Eduardo Centeno was released from the Santa Ana Jail on Feb. 25., according to inmate records. 
A 1-year-old boy who was found unresponsive at a Santa Ana motel on Monday has died, and his mother's boyfriend has been arrested on suspicion of child abuse, police said Tuesday.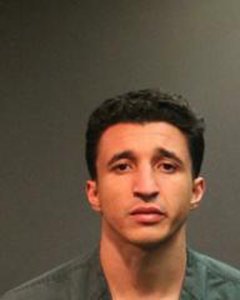 Officers were dispatched to the Royal Roman Motel, located at 1504 E. First St., shortly before 8 a.m. Monday after receiving a report of a baby not breathing, according to a Santa Ana Police Department news release.
The child was unresponsive when officers arrived, and they performed CPR on the young boy, the release stated. Paramedics arrived and took the child to Orange County Global Medical Center before he was transported to Children's Hospital of Orange County.
Santa Ana Police Cpl. Anthony Bertagna confirmed early Tuesday afternoon that the boy had died. Before his death, police said he was in critical condition and had been placed on life-support.
Officials have not identified the victim, and a cause of death has yet to be released pending an autopsy. However, investigators believe that he died of injuries he received the day before, according to Bertagna.
The boy's death is now being investigated as a homicide.
"There will be an autopsy, because it is a murder investigation, that will tell the detectives a lot of information, whether the injuries that they believe the victim received yesterday – how many of those were from yesterday, was there any long-term abuse?" Bertagna said. "Those are all things that an autopsy can provide homicide detectives."
An initial investigation uncovered evidence of possible child neglect and/or abuse, according to police.
Detectives questioned the victim's mother and her boyfriend, 25-year-old Eduardo Centeno. Prior to the child dying, he was arrested and booked into Santa Ana jail on suspicion of child abuse as well as two outstanding warrants for narcotics violations.
It was not immediately known whether he would face additional charges.
Centero was alone with the little boy at the motel, where the three lived, while his girlfriend went to work that day, Bertagna said. The mother was not at the scene when first responders arrived.
She has been released amid the ongoing investigation.
Anyone with information is urged to call Santa Ana Detective Eddie Nunez at 714-245-8390.
KTLA's Jennifer Thang contributed to this story.