This is an archived article and the information in the article may be outdated. Please look at the time stamp on the story to see when it was last updated.
Santa Ana police are looking for an alleged thief who is using stolen credit cards on Thursday after robbing a 73-year-old woman in a CVS parking lot.
The victim, identified as Patricia Gumper, arrived at the CVS Pharmacy on 3911 S. Bristol Street around 5:26 p.m. on Wednesday. A man driving a newer, white sedan with damage on the rear bumper parked next to her. 
Over the course of several minutes he attempted to convince Gumper that he could repaint the scratches on her vehicle, according to police.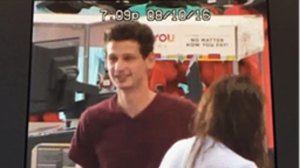 In the video posted to SAPD's YouTube page, Gumper is seen walking away from the man when he grabs her purse and knocks her down before fleeing the scene.
"He grabbed my purse and I thought, 'No I'm not giving him my purse,'" said Patricia Gumper.
The thief was forceful and aggressive and used his car to block Gumper's in, police Cpl. Anthony Bertagna said.
When the thief grabbed her purse, Gumper, who uses a walker, lost her balance and hit the ground hard.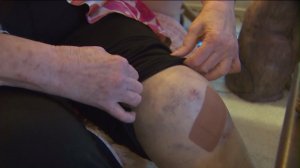 "I crashed down on my knee and … my elbow," Gumper said as she showed the bruises left by the confrontation.
The man then sped out of the parking lot leaving Gumper on the ground, the video showed.
The thief stole Gumper's new purse and credit cards, but most heartbreaking was losing the cash she had been saving for her surprise anniversary stay on the Queen Mary.
"I … got money out of the safe-deposit box that I had been saving for a 51st anniversary and I thought 'Oh no, he's got my Queen Mary money,'" she said.
Detectives believe that there were several other customers who were approached by the same man. 
The alleged thief is described as a 24-year-old, 5-foot-7-inch white man with wavy brown hair. He was last seen wearing blue jeans torn at the knees with blue shorts under his jeans.
Anyone with information is asked to call Detective Corporal A. Silva at 714-245-8545 or Detective Garcia at 714-245-8408. Anonymous tipsters may call Crime Stoppers at 1-800-222-TIPS.