This is an archived article and the information in the article may be outdated. Please look at the time stamp on the story to see when it was last updated.
Santa Ana police on Thursday arrested a man suspected of ramming a police officer's vehicle Thursday morning.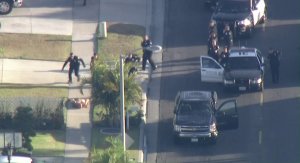 Officers responded to the intersection of Glenwood Place and Raitt Street about 6:30 a.m. for calls about a vehicle doing doughnuts and driving erratically in the area.
One of the drivers apparently tried to ram a police vehicle and eventually caused the officer to lose control and crash into a fence near Adams Elementary School, police said.
Police then initiated a pursuit with a truck, which ended shortly after in front of the suspect's home in the 1600 block of Joane Way.
The man was in boxer shorts when he got on the ground and was taken into custody by several officers, aerial video from Sky5 showed.
The man, who has not been identified, was arrested on suspicion of assault with a deadly weapon.
The officer who crashed his vehicle was taken to a hospital with a complaint of pain, but is expected to be OK.
Two schools near the suspect's home was on lockdown for a short time while the man was taken into custody.
Police had apparently had contact with the man Wednesday when an incident took place at a police station, Cpl. Anthony Bertagna told KTLA without elaborating.
No further details about the suspect have been released.
KTLA's Jennifer Thang contributed to this story.