This is an archived article and the information in the article may be outdated. Please look at the time stamp on the story to see when it was last updated.
Police released new images on Friday in the months-long search for the man who was caught on video attempting to rape a woman in a downtown Santa Ana stairwell.
A suspect in the attack was also identified for the first time, as 29-year-old Gildardo Cortez Martinez, according to the Santa Ana Police Department. Martinez is believed to be in the Orange County area.
The 25-year-old woman was assaulted more than six months ago, around 3:30 a.m. on May 21, after being followed and pulled down into a stairwell at the Copper Door bar at 225 N. Broadway, police said. The victim told authorities she went into the bar to use the bathroom.
Surveillance video of the incident shows a man manhandling the woman, first on the steps outside the business before knocking her down on the stairs as he gropes her, all while she attempts to fend him off. The video ends with him dragging her down the steps and out of the camera's view.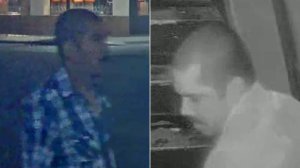 The man's pants were down and he tried to rape the victim after sexually assaulting her, police previously told KTLA. But she was able to fight him off.
Martinez was recently identified as a suspect through evidence collected at the scene, police said Friday.
He was previously wanted on an outstanding warrant for driving under the influence.
Officials describe him as a thin Latino man with brown hair and eyes, short black hair and a mustache. He is about 5 feet 8 inches tall and weighs around 180 pounds, according to police.
Anyone with information on his whereabouts may contact Det. Majors at 714-900-4174 or submit an anonymous tip 1-855-847-6227.