Santa Ana police on Wednesday released surveillance video and images of a man who violently kicked open the door of a clerk's office during a robbery earlier this month as they sought to identify and apprehend him.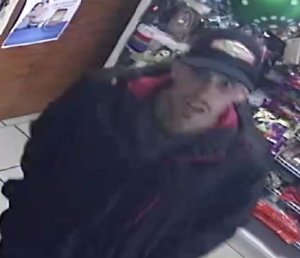 The incident took place about 3 p.m. on Dec. 1  at Peters Mini Market in the 5100 block of West 17th Street, according to the Santa Ana Police Department.
"After contacting the clerk, who was inside a locked office, the suspect asked to cash a check and was refused service." police said in a written statement. "The suspect proceeded to break the door down, and entered the clerk's office."
The man got away with more than $3,000 in cash taken from a money-counting machine at the business, police said. He was last seen fleeing on foot.
Chip Yost reports for the KTLA 5 News on Dec. 11, 2019.