This is an archived article and the information in the article may be outdated. Please look at the time stamp on the story to see when it was last updated.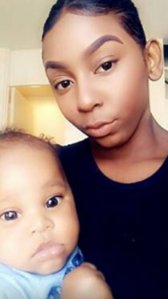 Santa Ana police are looking for a woman and her 1-year-old son who were described as "critically missing," officials said Tuesday.
Mylinna Linder, 19, and her son, Montana Rashad Linder, were last seen about 3 p.m. Nov. 26 at Jerome Park in Santa Ana, police said.
The mother is believed to be with her boyfriend, possibly in San Bernardino. Police only said the boyfriend's name is "Vincent" and he is believed to be driving a champagne-colored, four-door Toyota Camry from the late '90s.
Mylinna Linder is described as being 5 feet, 4 inches tall, 150 pounds with black hair and brown eyes. Her son is described as having black curly hair and brown eyes.
The 19-year-old's mother told KTLA she last saw the pair after dropping her daughter off at a Park Tuesday. A day later,  she received what she described as a strange text from her daughter's number that sounded like it was written by someone else.
The text read that woman was with her boyfriend and that the two are staying with friends and are fine, according to grandmother Lyana Linder.
The boyfriend, an aspiring rapper known as "Lil Sneek," told the grandmother that her daughter vanished after leaving to get gas when they broke down on a freeway on the way to San Bernardino Tuesday, according to Lyana Linder.
The grandmother said the boyfriend also told her that the child wasn't with his mother at the time.
Santa Ana police Cpl. Anthony Bertagna said officers have been searching for the two in San Bernardino and Santa Ana.
The mother and son were described as critically missing because of the child's age, Bertagna said.
Anyone with additional information can call ‪714-245-8408‬ or email ‪agarcia3@santa-ana.org‬.
Correction: A previous version of this story gave an incorrect gender for the missing child. The post has been updated.