This is an archived article and the information in the article may be outdated. Please look at the time stamp on the story to see when it was last updated.
SANTA ANA, Calif. (KTLA) — Authorities on Monday identified a woman shot and killed by police in Santa Ana as the suspect in a recent murder in Orange.
It happened at about 8 a.m. on Sunday in the alley in the 800 block of S. Townsend St., according to the Santa Ana Police Department.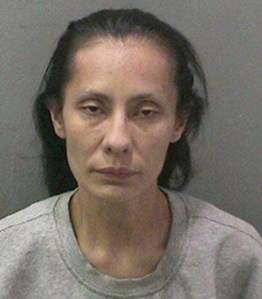 Two officers were patrolling the area at the time, police said.
During the patrol check, an officer encountered a woman in an alley and an officer-involved shooting occurred.
The woman was transported to a local hospital, where she was declared dead.
A replica firearm was found near her body, police said.
The woman was identified by the Orange County coroner's office on Monday as Jessica Gonzalez, 35, of Santa Ana.
Gonzaelz was wanted in the deadly shooting of her partner, 44-year-old Jennifer Solorio, in Orange last Thursday.
"We loved her. She was a human, and we know that she's resting in peace right now," Gonzalez's sister, Licha McLellen, said.
Friend Sonia Martinez described Gonzalez as a good person, who she said had endured years of abuse at the hands of her longtime partner.
"She was a sweetheart that snapped," Martinez said. "Jessica wanted to kill herself. She laid right there with Jennifer, but she didn't have anymore guns… no bullets."
"I seen her yesterday. As a matter of fact, I had her with me all day yesterday," Martinez said. "When everything was on the run, I had her with me. I didn't care."
When asked why Gonzalez was carrying a toy gun, Martinez said, "She wanted to go out like this."
"We replayed it yesterday," she said. "She didn't want to be a coward, and she didn't want to take her own life."
The Orange County District Attorney's office was conducting its own independent investigation.