This is an archived article and the information in the article may be outdated. Please look at the time stamp on the story to see when it was last updated.
Gusty Santa Ana winds and dry conditions have elevated the risk of wildfire to critical levels across much of Southern California.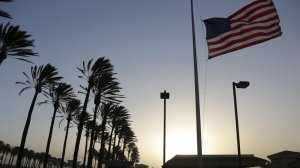 North winds that began Wednesday night were expected to shift to the northeast with "widespread drying" in Los Angeles and Ventura counties, the National Weather Service said.
A red flag warning is in effect through 6 p.m. Friday for "critical fire weather conditions" in those two counties. If a fire ignites, conditions favor "extreme fire behavior," the weather service said.
Overnight Wednesday into Thursday, the strongest gust was measured at 95 mph at Whitaker Peak, according to the Los Angeles Times. Thursday morning, a gust of 72 mph was measured in Malibu Hills.
Strong winds downed a large tree in Granada Hills on Thursday, but no one was injured.
Meanwhile, farther north, in Kern County, multiple big rigs overturned in gusty conditions on Highway 395 in the small community of Pearsonville on Wednesday.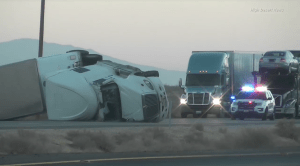 Video recorded on the highway -- the route between Southern California and Mammoth Lakes -- showed gusts lifting another big rig off its wheels as traffic backed up behind an overturned truck. A responding California Highway Patrol officer struggled in the wind.
Winds had gusted to 88 mph at Indian Wells, just south of there, on Wednesday afternoon.
The weather service warned that blowing dust reduced visibility to about 1 mile in the California City area.
In the Antelope Valley, temperatures dropping, a hard freeze warning has been issued from 2 to 9 a.m. Friday. Temperatures are expected to fall into the low to mid-20s late Thursday night.