This is an archived article and the information in the article may be outdated. Please look at the time stamp on the story to see when it was last updated.
Firefighters were on high alert Wednesday as strong winds, warm temperatures and low humidity were forecast to hit Southern California over a two-day period, prompting forecasters to warn of  extreme fire danger in the region.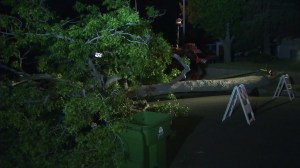 In anticipation of the "dangerous" weather conditions and the potential  threat they bring, the Los Angeles Fire Department will be "putting more resources out in the field," LAFD Capt. Daniel Curry said.
A red flag warning was in effect as gusty Santa Ana winds were expected to pick up early in the day and last through Thursday evening, according to the National Weather Service.
Mountain passes and canyon areas in eastern Ventura and western Los Angeles counties could see wind speeds of more than 60mph, while maximum wind gusts in parts of Orange and San Diego counties were expected to top out between 50 and 70 mph, federal forecasters said.
Winds were expected be strongest in the San Bernardino and Santa Ana mountains, the Cajon Pass and the Inland Empire, according to the weather service.
In addition to creating potentially hazardous driving conditions, the weather service stated that the strong winds could topple trees and down power lines.
The red flag warning would go into effect at 5 a.m. Wednesday and was scheduled to expire at 8 p.m. Thursday in L.A. and Ventura.
In Orange, Riverside and San Bernardino counties, the warning was in effect through 5 p.m. Thursday.
Humidity was also expected to "fall rapidly" starting Wednesday and remain low in the area through Friday, resulting in an increased risk of a wildfire igniting and spreading, according to forecasters.
"It is dangerous out there," Curry said. "We want everyone to be very vigilant, be watchful, be careful."
More video: