This is an archived article and the information in the article may be outdated. Please look at the time stamp on the story to see when it was last updated.
Four counts of first-degree murder with special circumstances were filed against suspected Golden State KillerJoseph James DeAngelo in Santa Barbara County, District Attorney Joyce Dudley announced Thursday.
With the new case, prosecutors in Santa Barbara County join their counterparts in Orange, Sacramento in Ventura in pursuing charges against DeAngelo, who was arrested outside Sacramento on April 25.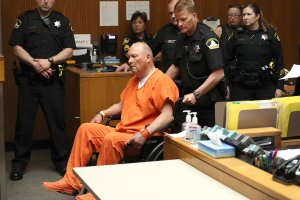 Some four decades after the Golden State Killer terrorized California communities with brutal rapes and homicides, investigators identified DeAngelo as a suspect using genetic information on commercial genealogy websites, authorities have said.
"We never stopped hoping or believing that an arrest would be made," Dudley said at a press conference.
The charges were filed for the murders of Cheri Domingo and Greg Sanchez on July 27, 1981, and Debra Alexandria Manning and Robert Offerman on Dec. 30, 1979, according to a felony complaint filed on Thursday.
One of the special circumstances allegations is for rape and attempted rape in connection with Manning's death.
Dudley said each of the four counts carries the potential of a life sentence without parole or a death sentence.
With the four counts in Santa Barbara County, the total number of murder charges DeAngelo faces is 12, Dudley said.
It is undetermined when DeAngelo, who is in custody in Sacramento, will appear in court in any of the counties where he's been charged.
Dudley said she will meet with the other district attorneys on Friday to discuss DeAngelo but she did not expect a decision to be made on the order in which the cases will be prosecuted.
"Something like this is really unprecedented," Dudley said. "But we will all be sitting at this table and we want the same thing."
DeAngelo, 72, is believed to be linked to several homicides in the Santa Barbara area in the late 1970s and early 1980s.
Officials believe the Golden State Killer fatally shot Offerman and Manning, who were both doctors, in December 1979 near Goleta.
The notorious serial killer then killed people in Ventura, Laguna Nigel and Irvine before returning to Goleta in 1981.
That July, Domingo and Sanchez were fatally beaten and shot in Domingo's home.