This is an archived article and the information in the article may be outdated. Please look at the time stamp on the story to see when it was last updated.
[protected-iframe id="9d865562c2a4f0b13e570fe7be7c8f79-41641936-52137988″ info="http://www.kaltura.com/index.php/kwidget/wid/0_n0ys4jon/uiconf_id/25650502″ width="560″ height="345″]
A group of firefighters went beyond the call of duty recently by doing some landscaping at the Santa Barbara home of an 81-year-old woman injured in a fall.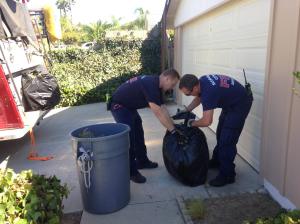 Captain Kevin Bryant and Firefighter Tyler Smith and others were among the first responders called to the house after the woman tripped over some shrubbery, breaking her arm and injuring her leg and shoulder, officials said.
Noticing there was no clear path to the homeowner's front door, which contributed to the incident, Bryant, Smith and their colleagues decided to return to the residence after she was transported to a hospital.
The members of the Santa Barbara City Fire Department trimmed a number of overgrown shrubs, leaving the driveway and walkways clear.
"That's why we're all here — we're all here to serve the public," Smith said. "Usually we do that in emergency situations. But this is one of those times we were able to do it another way."
The woman was recovering at home after undergoing surgery.
KTLA's John A. Moreno contributed to this report.