This is an archived article and the information in the article may be outdated. Please look at the time stamp on the story to see when it was last updated.
Office workers were still at their desks when Thomas Goodwin's 1974 motor home clanked out of a downtown parking lot one recent evening, power steering groaning as Lego blocks flew around the plaid interior.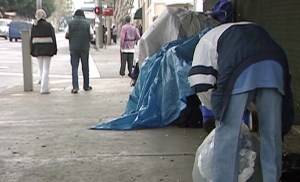 The 54-year-old single father moved the newly acquired camper to clear a parking place for the van where he and his 7-year-old daughter sleep — with the city's blessing.
Goodwin makes use of Santa Barbara's "safe parking" initiative, a homelessness program that Los Angeles is studying as a possible model for responding to its own explosion of people sleeping in RVs and cars.
The Santa Barbara program takes 115 vehicles off the streets overnight, placing them in designated spaces in 20 city, county, church, nonprofit agency and industrial lots in Santa Barbara and Goleta.
Click here to read the full story on LATimes.com.