This is an archived article and the information in the article may be outdated. Please look at the time stamp on the story to see when it was last updated.
The Santa Clarita City Council is expected to take up a resolution Tuesday to oppose California's "sanctuary" law and to file a brief in support of the Trump administration's lawsuit against the state.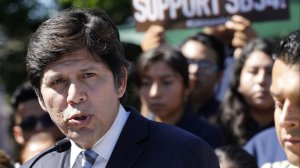 If the resolution passes, Santa Clarita will become what is believed to be the first city in Los Angeles County to officially oppose Senate Bill 54, which limits cooperation by local law enforcement with federal immigration authorities.
The city would join a handful of municipalities elsewhere in Southern California that have challenged the law since Gov. Jerry Brown signed it last October.
In March, Los Alamitos approved an ordinance claiming exemption from SB 54. That same month Orange County signed on to the federal lawsuit against California over SB 54 and other laws protecting immigrants. Huntington Beach has also sued California in state court.
Read the full story on LATimes.com.