This is an archived article and the information in the article may be outdated. Please look at the time stamp on the story to see when it was last updated.
A 37-year-old mother of six who was returning to her Santa Clarita home late Friday night from a hospital visit with her premature twin babies was killed in a possible DUI crash, according to authorities and relatives.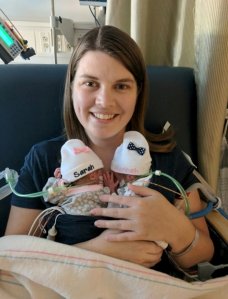 Katie Evans was driving in the area of Golden Valley Road and Valley Center Drive when she was struck head-on by a vehicle that had lost control after sideswiping another car, said Shirley Miller, a public information officer for the Santa Clarita Valley Sheriff's Station.
Evans was pronounced dead at the scene.
She was about a mile away from home when the fatal wreck occurred, according to a YouCaring fundraising page.
"That night was hell.I knew she was on her way home when she wasn't home when I thought she should be home I got worried," said Jacob Evans, the victim's husband.
Katie Evans was returning from a visit with her twin daughters, Hannah and Sarah, who were not even 8 weeks old yet, the page stated. Her four other children are between the ages of 2 and 12 years old.
"Katie couldn't go a day without visiting her brand-new twin girls in the hospital.  She was a devoted mother, sister and wife and will be immensely missed," according to the page.
Jacob Evans — the victim's husband — told KTLA on Monday that he and Katie had been married for 15 years.
He said he had people over when he broke the devastating news to the children about their mother's death.
"We had people here when I told the kids that their mom was gone," Evans recalled, his voice choked with emotion. "It was really important because every kid needed a hug and I could only really hug one at a time."
The YouCaring page was created by his sister, Natalie Mortensen, who hasn't left her brother's side since the fatal crash. She told KTLA she created the fundraiser  to help with funeral expenses, and to help with the children's future.
Since being posted over the weekend, the fundraising page has raised to more than $180,000. With an initial goal of just $100,000, the fundraiser had to increase its goal amount — now set at $500,000.
"There's still so much good in this world, and we are seeing that firsthand and I think that is the thing that's sustaining me right now," Evans said.
The twins are expected to go home in 4 to 6 weeks, according to the fundraising page.
Evans said that Hannah and Sarah almost died right before birth, but that they're getting stronger each day, thanks to their mother.
"I'm sure she's going to watch over them the rest of their lives," he said.
Meanwhile, a suspected drunken driver was booked on suspicion of DUI pending further investigation, according to the Santa Clarita Valley Signal.
"They found alcohol containers in the vehicle," sheriff's Sgt. Dan Dantice told the newspaper. She was released "pending further charges," he said.
No arrest has been made because investigators are awaiting the results of toxicology tests, which could take up to four weeks, Millers said.
Miller described the driver as a 21-year-old Santa Clarita resident, but told KTLA that authorities are not releasing her name at this time. The Signal earlier reported the woman was 22.
The woman was injured in the crash and was treated at a hospital before being booked, according to the newspaper.
The driver of the third car involved in the collision was not injured, according to Miller.
KTLA's Jessica Pierre-Petido contributed to this story.