This is an archived article and the information in the article may be outdated. Please look at the time stamp on the story to see when it was last updated.
A Los Angeles County railroad crossing that's been called the most hazardous in California will receive a long-planned overhaul, including a flyover ramp to separate traffic from trains, transportation officials said Thursday.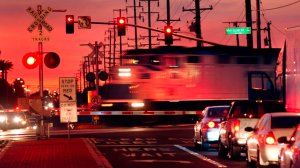 At a news conference near the Santa Fe Springs crossing, officials said they had secured the final $15 million needed to construct a $137.2-million overpass that will route car and truck traffic above the country's second-busiest passenger rail corridor.
The tracks slice diagonally through the intersection of Rosecrans and Marquardt avenues, a design that experts say is particularly dangerous because drivers and pedestrians can't always see oncoming trains.
Amtrak, Metrolink and freight trains roar through the street-level crossing once every 10 minutes. Three deaths and 19 other incidents have been reported there in the last three years, prompting regulators to dub it the state's most hazardous crossing.
Click here to read the full story on LATimes.com