This is an archived article and the information in the article may be outdated. Please look at the time stamp on the story to see when it was last updated.
A company blamed for causing a foul odor in Santa Fe Springs that prompted hundreds of complaints told air quality officials and residents it was working to address the problem.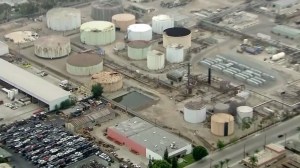 Hundreds of people called 911 over the weekend to report what they said smelled like "rotten eggs," authorities said, and residents complained that the stench was continuing this week.
"I just know that it smells terrible. It makes me nauseous at times. It makes a lot of us nauseous," nearby resident Nancy Oliverio said.
Water tanks on property owned by RDX Technologies Corp. are to blame, and dozens attended a South Coast Air Quality Management District meeting in Diamond Bar Wednesday to complain about the tanks.
"I'm frightened now," said one woman who described sealing her windows. "I just moved there. All of my money went into that building. How do I get out of there?"
RDX Corp., which changed its name from Ridgeline Energy Services in August, owns an old oil refinery and cleans industrial wastewater in the tanks. AQMD officials said the foul smell — coming from a chemical compound called hydrogen sulfide — is escaping through holes in the tanks.
AQMD wants the company to stop putting additional water into the tanks, get rid of existing water, and put controls into place to ensure the stench goes away for good.
An attorney for the company said Ridgeline had purchased the property in April and was working to remove the stinky tanks, pending county approval.
"We intend to empty those tanks as fast as we can and then take the tanks down," lawyer Albert Cohen said.
KTLA's Sara Welch contributed to this report.