This is an archived article and the information in the article may be outdated. Please look at the time stamp on the story to see when it was last updated.
Five buildings were damaged Saturday after a four-alarm fire broke out at a Santa Fe Springs warehouse, sending plumes of smoke into the air and causing multiple small explosions and road closures, according to officials.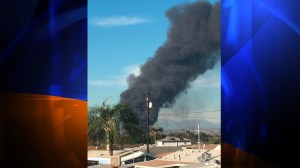 A fire was reported around 4 p.m. at 12927 Sunshine Ave. (map), according to L.A. County Fire Department officials.
The address matched that of Life Paint Company, a wholesale-paint manufacturer.
Officials could not confirm the name of the business, but flammable liquids were inside, Downey Fire Department Capt. Bloom said.
"What these businesses do is they mix paint, we had numerous 55-gallon drums of thinners, latex, acrylics," Santa Fe Springs Fire Department Chief Michael Crook said.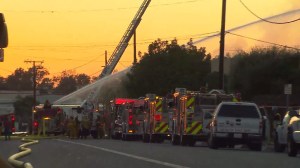 Due to several small explosions and the presence of chemicals, firefighters were on a "defensive attack" and battled the blaze for several hours from outside, officials said.
The surrounding area was mostly industrial and no evacuations were ordered.
Shoemaker Avenue, Greenstone Avenue and Sunshine Avenue were closed due to the blaze but later reopened.
Five buildings were damaged during the fire.
The cause of the fire was under investigation.