This is an archived article and the information in the article may be outdated. Please look at the time stamp on the story to see when it was last updated.
A child was killed and seven other people hospitalized, including two children in critical condition, after a crash on the 10 Freeway in Santa Monica that temporarily blocking all lanes of the busy interstate Friday afternoon.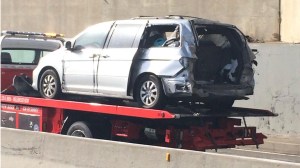 A SigAlert was issued by CHP at 1:10 p.m. for the westbound Freeway at the McClure Tunnel, just before the roadway turns into the Pacific Coast Highway.
The child died after being transported from the scene, California Highway Patrol Officer Pete Bishop said, but he could not provide details on the nature of the collision.
Two juveniles were in critical condition and five others were hospitalized with moderate injuries, according to Robin Gee, a spokeswoman for the city of Santa Monica.
All of the injured and the child that died were traveling in a minivan on their way to Las Vegas for vacation, officials on scene said.
No other information about the victims was released.
Along with a semi truck and a dump truck, the minivan remained at the scene of the crash investigation inside the McClure Tunnel several hours after the collision. They were removed just before 6 p.m., when Santa Monica firefighters were working with Caltrans to clean up a small diesel spill on the scene, according to a tweet from the city.
Investigators were working to determine what caused the crash, and details about the collision and the victims' conditions remained foggy in the early evening.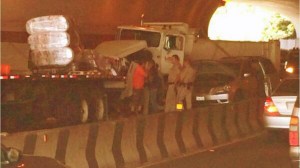 Eastbound lanes had reopened, the city of Santa Monica said on Twitter at about 2:45 p.m. Westbound lanes were expected to remain closed for several more hours, according to CHP officials on scene.
A semi truck hauling sheet rock was jackknifed in lanes at about 12:30 p.m., according to a description on the California Highway Patrol's traffic incident website that was later removed.
"The westbound 10 Freeway is closed at Lincoln Boulevard due to a major traffic incident," Santa Monica Police Department stated on Facebook. "Please adjust your travel plans accordingly."
Traffic was diverted off the westbound freeway at Lincoln Boulevard, and off the southbound PCH at the California Incline, the CHP said on the Twitter.
KTLA's Jennifer Thang and Mark Mester contributed to this article.