This is an archived article and the information in the article may be outdated. Please look at the time stamp on the story to see when it was last updated.
The longtime Santa Monica city employee arrested on suspicion of molesting children while volunteering for a city-run program during the 1990s is now facing criminal charges, the Los Angeles County Sheriff's Department announced Wednesday.
The charges come nearly a week after 50-year-old Eric Wess Uller was arrested at his workplace. He is the lead public safety systems analyst for Santa Monica but has since been placed on administrative leave, sheriff's officials said.
Detectives with the Sheriff's Department and Santa Monica Police Department began investigating Uller in June for allegations of sexual abuse against children that date back to the mid-1990s, according to sheriff's officials.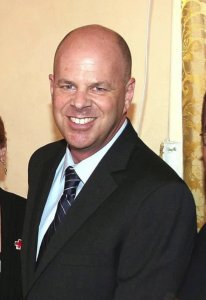 The investigation started with an anonymous tip to local police before a victim was identified and the case was turned over to the Sheriff's Department, city officials said in a statement.
So far, the case involves four alleged victims who came forward recently, Lt. Todd Deeds of the sheriff's Special Victims Bureau has said.
Uller is accused of abusing the children while he was volunteering with Santa Monica's Police Activities League program, or PAL, which describes itself as a public-private partnership run by the city.
Last Thursday, detectives with the Special Victims Bureau arrested Uller on suspicion of lewd acts with a minor, sheriff's officials said.
The Los Angeles County District Attorney's office filed charges against him on Monday — including five counts of sexual crimes against four minors, according to the Sheriff's Department.
Those charges include three counts of lewd acts upon a child, two counts of oral copulation of a person under 18 and a count of continuous sexual abuse, the Sheriff's Department said.
The DA's office has not yet released a statement on the charges against Uller.
Meanwhile, in a statement, the city of Santa Monica has admitted to the 2015 conviction of a PAL employee for annoying or molesting a minor and said the employee was fired.
The statement also addressed allegations the city knew about reports of abuse against Uller "and did nothing to address it."
The city is conducting its own investigation into those claims as well as cooperating with law enforcement officials and prosecutors, officials said.
"The City will continue to take all steps to ensure the health, safety and wellbeing of youth enrolled in City-sponsored programs," the statement read.
Uller's bail has been set at $750,000 and his next court appearance is scheduled for Nov. 5.
Detectives believe there could be more victims out there and has asked anyone with information to contact authorities.
The Sheriff's Department's Special Victims Bureau can be reached at 877-710-5273 or specialvictimsbureau@lasd.org.  Anonymous tips can be sent to L.A. Crime Stoppers by calling 800-222-8477.