This is an archived article and the information in the article may be outdated. Please look at the time stamp on the story to see when it was last updated.
The announcer called the name over the loudspeaker as the Santa Monica High Vikings entered Corsair Stadium at Santa Monica College for their first football game of the season. At the edge of the field, Lourdes Castillo also mouthed the words: Juan Castillo. Her son.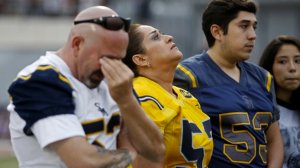 The 18-year-old former football team captain was shot to death in February, and on Friday the school retired his number, 53.
Sherwin Espinosa, 42, was arrested and charged with murder in the killing. He pleaded not guilty June 5.
But that was far from the Castillos' minds Friday, as father, mother and brother linked arms, each wearing one of Juan's jerseys, and walked to the center of the field. Friends and family circled them, and Vikings coach Ramsey Lambert presented a jersey and picture of Juan Castillo signed by the team.
Read the full story on LATimes.com.