This is an archived article and the information in the article may be outdated. Please look at the time stamp on the story to see when it was last updated.
A Santa Paula-based nonprofit that pairs dogs with first responders is sending some of its finest canine trainees to Texas to strengthen disaster response during Hurricane Harvey.
The National Disaster Search Dog Foundation has deployed a total of 10 canine search teams to southeast Texas, where the Category 4 storm made landfall late Friday night.
The organization was founded more than 20 years ago by Wilma Melville, who saw a need to improve how the U.S. responds to national disasters in the wake of the 1995 domestic terror bombings in Oklahoma City.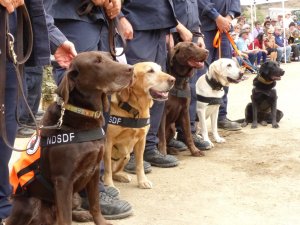 "Our nation in 1995 had approximately 15 canine disaster search teams," Melville said. "That was clearly far too little for a country our size."
Since, the foundation has completed nearly 160 deployments, including sending dogs to scour debris at ground zero after 9/11, search for flood victims after Hurricane Katrina and recover victims from the La Conchita landslide.
"Here in Santa Paula is a gift to the nation," Melville told KTLA. "All of the country's search teams are welcome to come here and be challenged to grow, to be ready."
The dogs are often rescues themselves, taken from shelters by the foundation's employees who are trained to identify dogs who may have been abandoned due to their unique traits, according to canine trainer Emily Hodges.
"Usually these dogs don't make good pets, so we often find our dogs at shelters and turn them into rescuers," she said.
About two dozen dogs are currently undergoing to rigorous search and rescue training process.
Marc Valentine, who works with the Montebello Fire Department, will be serving as a task force coordinator for the Hurricane Harvey response. A handler for 17 years now training with his third dog, Valentine said the dogs never cease to amaze him.
"It's incredible what these dogs can do with their nose — to be able to find the scent of a human who's buried five stories down, and to stay on it and keep barking," he said. "It's incredible."
The dogs will have their work cut out for them in Texas, where Harvey is the first Category 4 hurricane to make landfall in the United States since Hurricane Charley in 2004.