This is an archived article and the information in the article may be outdated. Please look at the time stamp on the story to see when it was last updated.
A high school football player in critical condition Monday after suffering a major spinal cord injury mouthed the words "I love you," a friend told KTLA.
Santiago High School junior linebacker Jordan Walker was hurt while attempting to tackle a running back from Upland High School during a game on Friday, Nov. 22.
Walker, 16, underwent surgery to repair a displaced vertebra on Saturday, the Riverside Press-Enterprise reported.
Jordan's family said in an official statement that his vital signs were stable, and he was responsive.
"The level of care and professionalism Jordan has encountered has been unprecedented," the family said in the statement.
Walker, who remains in critical condition at Loma Linda University Medical Center, has been "on and off" a ventilator Monday, family friend Leila Azerado told KTLA.
Walker managed to say "I love you" during a period without the ventilator, Azerado said.
The family thanked the medical team at Upland High School for playing a vital role with their initial response to Jordan's injury.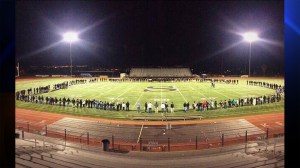 "We understand that with any sport, there is the risk of injury. We do not blame or have any hard feelings toward the football players and coaches of Upland and Santiago High Schools," the family said in the statement.
Walker was originally taken to Riverside Community Hospital before being transferred to Loma Linda Medical Center Friday night.
Hundreds of people took part in a prayer service at Santiago's football field Saturday, the Press-Enterprise reported.
"The outpouring of support we have received is more than we could have ever expected. Thank you to the Corona community for your prayers and support," Walker's family stated.