This is an archived article and the information in the article may be outdated. Please look at the time stamp on the story to see when it was last updated.
A 37-year-old Saugus man was charged Monday with kidnapping and other crimes in connection with a 3-year-old girl who was taken from a Newhall apartment through a window.
Ethan Odom was charged with kidnapping and attempted kidnapping of a victim under 14, as well as first-degree burglary over the Jan. 8 incident, the Los Angeles County District Attorney's Office announced.
He pleaded not guilty in San Fernando Superior Court on Monday afternoon, the DA's office said on Twitter.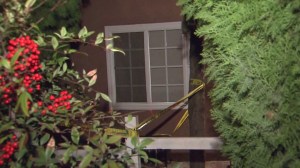 Odom allegedly removed the screen window to an apartment in the 24200 block of Arch Street at about 7 p.m., according to the Sheriff's Department.
The girl's aunt told KTLA that the kidnapper leaned into the window and then told the toddler to come toward him.
Odom then grabbed a 3-year-old girl and fled, the DA's office said. The girl's sibling saw what happened and called out for her father, who went to search for the girl, according to prosecutors.
The victim's father and uncle found the girl in Odom's arms, the DA's office stated in a news release. He handed her over to the girl's uncle and then the father tackled him, the uncle told KTLA.
The family had called 911, and deputies arrived and recovered the young girl, arresting Odom.
About an hour before the incident, Odom had allegedly tried to lure a 9-year-old girl as she was walking with her mother, an investigation revealed, according to the DA's office.
Odom faces up to 13 years and four months in state prison if convicted as charged. He was due back in court Jan. 27.
He was convicted of receiving stolen property in 2011, according to the DA's office.