This is an archived article and the information in the article may be outdated. Please look at the time stamp on the story to see when it was last updated.
A schizophrenic woman who was nine months pregnant walked away from a Moreno Valley hospital Monday morning, according to the Riverside County Sheriff's Department, prompting investigators to ask for the public's help in finding her.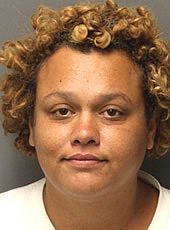 Angela Castro, 34, was last seen about 10:15 a.m. in the waiting room of the labor and delivery unit at Riverside University Health System Medical Center, in the 26500 block of Cactus Avenue, according to a sheriff's news release.
Castro suffers from paranoid schizophrenia and is believed to be a transient, the statement said.
She was described as Hispanic; 5 feet 7 inches; weighing 380 pounds; with short, blonde, curly hair and brown eyes. She was last seen wearing a floral print dress and blue pants.
Anyone with information about Castro's whereabouts was asked to call the Moreno Valley Police Department's Investigation Bureau, which was handling the case, at 951-486-6700. After hours and on weekends, the department may be reached at 951-776-1099.