This is an archived article and the information in the article may be outdated. Please look at the time stamp on the story to see when it was last updated.
A school bus caught on fire along the 210 Freeway in the Lake View Terrace on Thursday, leaving schoolchildren stranded on the side of the road.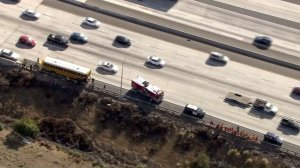 The fire was reported just before 3:30 p.m. along the westbound 210 Freeway just east of the interchange with the 118 Freeway, according to the California Highway Patrol's traffic incident log.
The students appeared to be girls in uniform heading to a sports event.
No one appeared to be injured and the Los Angeles Fire Department was responding, aerial video from Sky5 showed.
Brian Humphrey with LAFD said either police or CHP put the flames out with a hand-held fire extinguisher. No one was injured and students were awaiting the arrival of another bus, he confirmed.
A SigAlert was issued about 4 p.m. due to the far right lane being blocked for the response.