This is an archived article and the information in the article may be outdated. Please look at the time stamp on the story to see when it was last updated.
Cameras were rolling as authorities led a screaming woman away from the courthouse during a KTLA report on the Michael Jackson wrongful death trial in downtown Los Angeles Tuesday.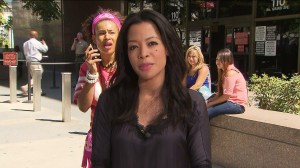 It was clear from the beginning of Kareen Wynter's live report that things weren't going to go well.
A woman, standing close by and talking on her cellphone, was seen and heard on camera as Wynter began her report.
Then, on air, Wynter and the woman both disappeared from sight as video showing the scene inside the courthouse rolled.
Wynter continued with her report when the camera returned to her.
Although the woman was no longer seen, she could be heard — her screams were coming from somewhere in the distance.
Just seconds later, the woman showed up again behind Wynter, farther away. This time, she was being escorted away from the courthouse by authorities.
When asked about the incident, Wynter said she was prepared because the woman had been disrupting other reporters.