This is an archived article and the information in the article may be outdated. Please look at the time stamp on the story to see when it was last updated.
A sea lion pup was rescued after it wandered into a fish market parking lot Sunday evening.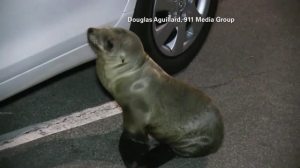 Video showed the sea lion hanging out near some vehicles in the parking lot as onlookers and police stood by.
At one point, the sea lion had apparently jumped into a car, played with the radio and even got behind the wheel, CNN reported.
A Sea World rescue crew was eventually called to the scene to assist with the animal.
The pup was picked up and safely taken away, CNN reported.