This is an archived article and the information in the article may be outdated. Please look at the time stamp on the story to see when it was last updated.
A sea lion gave people a front-row seat to its underwater world at the Aquarium of the Pacific when it took a selfie stick along for a swim, video posted online Thursday showed.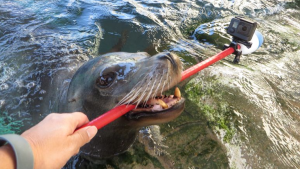 "Milo" took the camera out "on a quick but exciting circuit of the front pool of the exhibit" after husbandry volunteer Hugh made a makeshift selfie stick by mounting a GoPro at the end of a target pole, where the float is.
The float neutralized the weight of the camera, making it easier for Milo to swim while holding it, according to Hugh.
"I just thought it would be neat to see a swimming sea lion from the same selfie stick perspective that surfers and other action sports athletes use to give a 'you are there' feel to their shots," Hugh said.