This is an archived article and the information in the article may be outdated. Please look at the time stamp on the story to see when it was last updated.
SEAL BEACH, Calif. (KTLA) — The city council in Seal Beach was expected to meet Monday to consider a moratorium on approving new business licenses for shops that sell electronic cigarettes.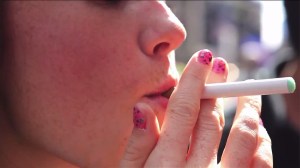 The battery powered e-cigarettes use vapors to deliver nicotine to smokers.
Supporters believe e-cigarettes help people stop smoking and are a safer alternative to smoking.
The FDA has announced on its website that more study was needed on this newer type of cigarette.
City staff members who asked for the moratorium also wanted to see more research before deciding whether to approve a number of applications for new smoke shops.