This is an archived article and the information in the article may be outdated. Please look at the time stamp on the story to see when it was last updated.
Three search-and-rescue teams saved an "incredibly lucky" 2-year-old dog that was apparently uninjured after falling some 600 feet from the side of a cliff in the San Gabriel Mountains on Tuesday, authorities said.
The dog was hiking on the Sam Merrill Trail when he slipped and fell, Los Angeles County Sheriff's Department Deputy Dan Paige said.
Search and rescue teams from Altadena, Montrose and Sierra Madre responded.
"Angel," a white German shepherd mix, fell about 600 feet down very steep terrain, Paige said. It took about two hours to locate him, the deputy said.
Crews used some 700 feet of rope to lower rescuers down to the animal, which was stopped on an outcropping that was just about 2 feet square, Paige said.
The dog was visibly afraid and apprehensive, said rescuers, who offered him a piece of beef jerky, according to a news release from the Sheriff's Department.
Angel was then placed into a specially designed dog harness, allowing rescuers to lower themselves and the dog to the canyon bottom, the release stated.
Paige called the dog "incredibly lucky," noting that a mountain biker broke multiple bones after falling from nearly the same spot last year.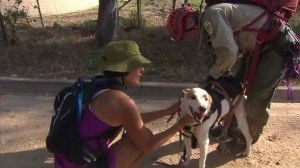 The dog's owner, Francine Banzali, was waiting at the entrance to the Sam Merrill Trail, next to Altadena's Cobb Estate.
"My dog Angel and I were running down the trail and all of sudden he was gone," she said. "I backtracked and I couldn't find him, but I could hear him crying down in the canyon."
Banzali ran down the trail and could see Angel in a ravine, unable to escape. She called the Sheriff's Department, which responded quickly.
Angel was very excited to be reunited with his owner, and he did not appear to be seriously hurt except for a scratch on his nose.
"He's going to be on the leash from now on," Banzali said. "I'm so thankful to these guys, the Sheriff's Department, search and rescue."
The popular Sam Merrill Trail leads about 2 1/2 miles up to the top of nearly 3,210-foot Echo Mountain.
More video: