This is an archived article and the information in the article may be outdated. Please look at the time stamp on the story to see when it was last updated.
The search for a swimmer who went missing after jumping off a ledge into the ocean off the coast of Rancho Palos Verdes entered its third day Friday.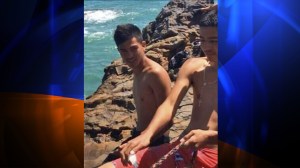 Joseph Sanchez, 18, went missing around 3 p.m. Wednesday. Lifeguards, sheriff's officials and the U.S. Coast Guard have been combing the waters around the rocky outcrop ever since, and planned to widen their search Friday.
Officials believe Sanchez will most likely be found in the area surrounding the cove because of the nature of the currents, but haven't ruled out the possibility of waves having pulled him farther out to sea.
"Anything is possible. You're in the ocean," said Nicole Nishida, spokeswoman for the Los Angeles County Sheriff's Department.
Click here to read the full story on LATimes.com.