This is an archived article and the information in the article may be outdated. Please look at the time stamp on the story to see when it was last updated.
The Southern California daredevil whose plane crashed into a lake in northeastern China while performing stunts from the movie "Top Gun" had disregarded warnings to cancel his flight because of bad weather, witnesses said Wednesday.
A search for the pilot, David G. Riggs, continued Wednesday, but neither he nor his body had been located by nightfall.
Riggs crashed into a lake near Shenyang on Tuesday afternoon while flying a Lancair 320, a high-performance single-engine aircraft made from a kit.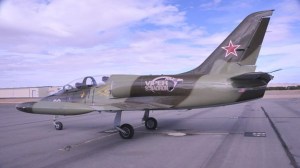 Riggs was a controversial figure, who had lost his pilot's license twice for buzzing the Santa Monica Pier and for illegally selling rides to the public. Although his license had not been restored, Chinese organizers hired him as one of the star performers in the International Flight Conference & General Aviation Products Expo, which is set to open Friday.
Click here to continue reading this story on LATimes.com.