This is an archived article and the information in the article may be outdated. Please look at the time stamp on the story to see when it was last updated.
A stolen car that was pulled over by deputies in the Hancock Park area took off Tuesday afternoon, striking another deputy's vehicle before two occupants got away, prompting a search, video from Sky5 showed.
Several Los Angeles County Sheriff's Department vehicles had stopped the vehicle at what appeared to be Mansfield Avenue and Clinton Street just before 4:30 p.m., aerial video from Sky5 showed.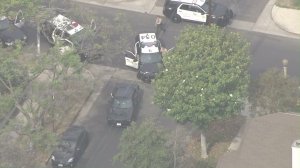 The driver and passenger each had both of their hands out of the window — when the vehicle sped away, aerial video from Sky5 showed.
The car was stopped by deputies after a report that it was stolen came in about 4:20 p.m., according to sheriff's Deputy Juanita Navarro-Suarez.
After fleeing the stop, the car made a turn and struck the open door of another sheriff's vehicle that was stopped on Orange Drive, Sky5 video showed.
A couple blocks away, the car -- apparently a black Dodge Challenger -- careened into a sidewalk and squeezed by another vehicle, going the wrong way on a street in a residential neighborhood.
Less than 2 minutes after speeding away from the initial stop, two individuals in the vehicle bailed out of the car on foot, apparently running separate ways in the 100 block of Sycamore Avenue, which is lined with homes and apartment buildings.
Los Angeles firefighters went to assist at the site where the deputy's SUV was struck. A female deputy was hospitalized with minor injuries, Navarro-Suarez said.
Following a perimeter search in the area, the driver was eventually located and taken into custody, according to Navarro-Suarez.
She did not know if the passenger was taken into custody.
A local resident told KTLA that a police helicopter was circling the area just before 6 p.m., broadcasting in both English and Spanish: "Surrender now; come out with your hands up and you will not be harmed."
Armed officers were seen on Sycamore Avenue, Orange Drive and Mansfield Avenue, the resident said.
KTLA's Nidia Becerra and Scott Williams contributed to this article.