This is an archived article and the information in the article may be outdated. Please look at the time stamp on the story to see when it was last updated.
The man who was fatally shot by deputies during a shootout in Solvang the day after allegedly kidnapping a 15-year-old Bay Area girl was identified by the Santa Barbara County Sheriff's office on Friday.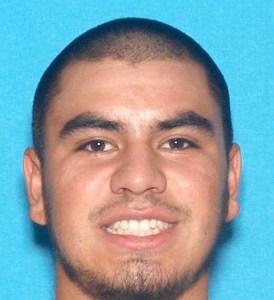 Fernando Castro, 19, was the person killed in the Thursday gunbattle, the Sheriff's Office confirmed in a news release.
Castro was named a suspect in the abduction of Pearl Pinson, whose disappearance triggered an Amber Alert hours before the deadly shooting.
Pinson hasn't been seen since Wednesday morning, when the bleeding girl was screaming for help as an apparently armed man dragged her away on an Interstate 780 pedestrian over-crossing in Vallejo, authorities said.
Shots were heard at the scene, and blood was later found on the ground.
Multiple agencies, including the FBI, California Highway Patrol, and Solano and Santa Barbara county sheriff's offices, are involved in the search for Pinson.
Castro was located on Thursday hours after CHP identified a gold 1997 Saturn as the vehicle he was driving and issued the alert.
The Saturn was first spotted about 3:30 p.m. on the 101 Freeway in San Luis Obispo Luis County, prompting CHP officers to pursue the car. The Santa Barbara County Sheriff's Office later took over after the chase entered the neighboring county, authorities said.
The driver exited the 101 Freeway in Buellton and drove to a residential neighborhood in Solvang, where the car crashed at a mobile home park, according to Santa Barbara County sheriff's spokeswoman Kelly Hoover.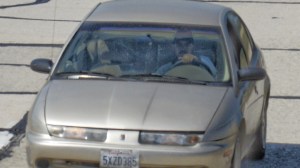 He broke into a mobile home and started firing shots, she said.
The suspect then allegedly stole a truck from the residence and tried to drive away, but was confronted again by deputies.
After another round of gunfire, Castro was found dead inside the vehicle, the Sheriff's Office said.
Pinson was not in the car with the suspect, and has not been seen since she was kidnapped, according to authorities.
The Saturn associated with Castro was spotted in a surveillance camera in Marin County Thursday morning, but she wasn't with him, according to KTLA sister station KTXL.
"I know she's out there, and I know she's alive, and I just pray that you come home," said Rose Pinson, the missing girl's sister, in a tearful plea. "We need you home."
Pinson is described by authorities as white, 5 feet 3 inches tall, weighing approximately 130 pounds with brown hair dyed green; she was last seen wearing a gray sweater and black leggings, according to CHP. She had a black and turquoise backpack with her at the time of her disappearance.
Anyone with information about her whereabouts has been urged to contact the Solano County Sheriff's tip-line at 707-784-1963.