This is an archived article and the information in the article may be outdated. Please look at the time stamp on the story to see when it was last updated.
A week after an Arcadia firefighter disappeared while chasing after his runaway dog during a backpacking trip in a remote area of the Los Padres National Forest, search crews continued to scour the wilderness Friday but were being hampered by members of the public.
Civilian searchers with good intentions were arriving to aid the professional effort to find Mike Herdman, 36, but were ill prepared for the wilderness,  Ventura County Sheriff's Office Sgt. Eric Buschow said.
Additionally, a helicopter that had been used in the search was grounded because a private party had launched a drone into the search area, Buschow said.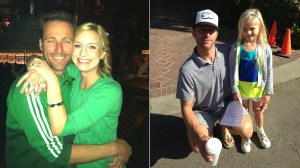 "It is absolutely illegal to fly anything back here other than our operation that's going on now," he said.
It was not clear how long the helicopter was grounded for.
Meanwhile, the search team had deployed its own unmanned aircraft to search for Herdman, the Sheriff's Office announced on Twitter Thursday.
The Sheriff's Office received a temporary emergency authorization to use a Puma UAS in the search area. The aircraft was contributed by Simi Valley-based Aeronvironment, sheriff officials said.
Herdman had been setting up camp with a fellow firefighter friend on June 13 when the two ran after Herdman's dog Duke and then became separated. After the friend, Taylor Byars, took nearly two days to walk out of the deep backcountry to alert authorities to Herdman's having vanished, the search began Monday.
On the fifth day of an operation that included searchers from multiple counties, air units and K-9s, there was still no sign of the missing man.
Frustration was mounting amid the highs and lows of the search operation, Buschow said.
On Wednesday and Thursday, crews had spotted Duke, but the dog got away. Herdman's backpack and footprints had also been found, but there was no indication where the firefighter himself was.
"It's frustrating to be this far into it and not find any sign of him," Buschow said. "That's tough on everybody, especially the family.
"There's this sudden rush of optimism. Now we're a day and a half beyond the first sighting of the dog, and still no Mike. My heart goes out to them. It's got to be rough."
There was no indication of foul play, Buschow said.
Herdman, a physically fit paramedic and firefighter from Dana Point who has extensive backcountry experience, has a wife and young daughter.
As the search continues, concern is mounting that he is "seriously injured," Buschow said.
"The assumption is that if he was able to move around, we would have found him by now," Buschow said. "He would have flagged us down, we would have heard him."
Searchers have seen mountain lion and bear tracks and lots of rattlesnakes, the sergeant said, noting that one member of the search operation was bit by a rattlesnake on Thursday. Three other team members were also injured during the search.
About 60 searchers were looking for Herdman on Friday. They were based out of a command post at Tar Creek trailhead (map), north of Fillmore. It was there that Buschow said authorities were trying to locate the party that launched a drone into the search area.
Eleven federal immigration agents with extensive experience in rugged terrain joined the search Thursday.
Herdman had last been seen along Sespe Creek, barefoot and wearing only shorts and T-shirt.
Search continues for missing firefighter in Sespe – many agencies helping #sheriffvc

— Ventura Co. Sheriff (@VENTURASHERIFF) June 20, 2014