This is an archived article and the information in the article may be outdated. Please look at the time stamp on the story to see when it was last updated.
The underwater search for a missing Orange County teen continued Thursday at Castaic Lake, a day after a burning male body was found not far from the site where the teen's overturned SUV had been discovered a few days before.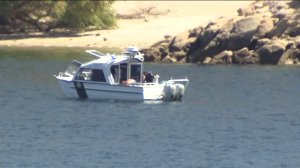 The charred body remained unidentified Thursday, according to Los Angeles County Department of Coroner Lt. Fred Corral.
On Wednesday, sheriff's department officials had said they had not been able to make a connection between the charred body and the case of missing Laguna Niguel 19-year-old Bryce Laspisa.
Laspisa had been driving home from Sierra College, the school he attended outside of Sacramento, when he told his mother on the phone that he was too tired to drive. That was about 2 a.m. Friday, Aug. 30.
A few hours later, his SUV was found on its side near Castaic Lake with a rear window smashed. Laspisa's wallet and cell phone remained in the car.
Searches of the area have continued since then, and on Thursday divers with the sheriff's department returned to Castaic Lake to search for Laspisa. They were in the water for a few hours before appearing to pack up and leave.
His mother, Karen Laspisa, said the family had volunteered her son's dental records and clothing in case they are needed for identification or search purposes.
She said she remains hopeful that he'll be found.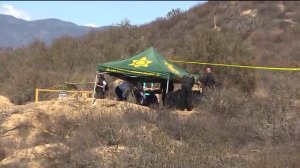 Meanwhile, the charred body found on Wednesday morning by a passing bicyclist a few miles from Laspisa's SUV was at the county coroner's office in downtown Los Angeles, where it had not yet been examined, Corral said Thursday. He expected the examination to happen Friday, he said.
The body, which sheriff's investigators had said was male, was placed under a "security hold" by homicide detectives because of the ongoing investigation, Corral said. No information will be released by the coroner's office until the hold is lifted, he added.