This is an archived article and the information in the article may be outdated. Please look at the time stamp on the story to see when it was last updated.
Public access to a popular but dangerous Palos Verdes coastal rock outcropping was shut off Thursday after more than 50 rescue operations in less than two weeks and amid the ongoing search for a missing 18-year-old swimmer, authorities said.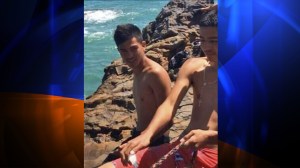 Rescuers from multiple agencies were responding to Abalone Cove to search for the teen, who disappeared in the water about 3 p.m. Wednesday, according to a news release from the Los Angeles County Sheriff's Department.
Officials described the beautiful coastline, known for its tide pools, as an extremely dangerous area where powerful surf can push swimmers into the rocks, knocking them unconscious.
More than 50 rescue operations have been conducted in the Abalone Cove and Sacred Cove area since July 1, county Fire Department Lifeguard Section Chief Chris Linkletter said.
That's in part due to a south swell that's brought high surf and rip currents, but also because of social media is drawing people to rock jump in the area, Linkletter said.
"It's all over YouTube, Facebook, everything. People are seeing it, and the videos they're seeing are nice and calm," she said.
But the waters are often turbulent in that area.
"We want people to enjoy the coast, but if they want to go in the water, they need to swim where a lifeguard is," Linkletter said.
The nearest lifeguard to Sacred Cove and Inspiration Point, popular rock-jumping and tide-pooling spots, is about a quarter-mile west, she said.
On Thursday afternoon, the Lifeguard Section announced that public access to Inspiration Point and nearby Portuguese Point would be closed until sundown Sunday.
Meanwhile, the search was continuing for the missing teen swimmer, who was identified by friends as Joseph Sanchez.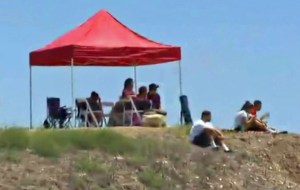 Family members were waiting under a red canopy on the coast overlooking the area where Sanchez went missing — and where divers were hoping to recover his body.
Sanchez is among those who regularly go to Inspiration Point to cliff-jump, his friend Toogee Zepeda told KTLA. They do it every week, Zepeda said.
When Sanchez jumped into the water Wednesday, he was knocked into the rocks by the high surf and then swept into a cave, Zepeda said.
Zepeda jumped in after to try and help Sanchez — whom he described as a poor swimmer — out of the dangerous seas. The two quickly became overwhelmed by the pounding surf.
"I told him, we have to swim or the waves are going to keep coming in. He said he couldn't swim and I couldn't carry him on my back," he said.
Knowing he needed to flag down help, Zepeda left Sanchez and told him to hang on to the rock.
"I told him … 'Whatever you do don't let go of this rock,'" he said. "I just swam away and he told me 'don't leave.'"
By the time lifeguards arrived to rescue Sanchez, the teen had disappeared.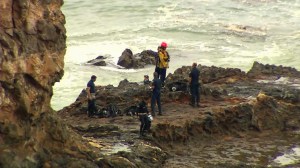 Elite divers from the Fire Department, the Coast Guard and the Sheriff's Department searched for the teen for the rest of the day, but found no sign of Sanchez.
Fire officials have since turned the rescue effort over to the Sheriff's Department for a recovery mission.
The search resumed at daybreak Thursday. A team of divers planned to be out looking for the teen until sunset, when sheriff's boats and a helicopter were set to continue efforts.
The divers were set to resume the underwater search on Friday.
Before the closure of Inspiration and Portuguese points was announced late Thursday, Sheriff's Department Sgt. Phil Barth was urging swimmers to avoid the area.
"It's very dangerous — a lot more dangerous than it looks from the cliffs here," Barth said. "They go out, and they get caught in a rip current, and they get sucked out to sea."
KTLA's Mary Beth McDade and Kennedy Ryan contributed to this report.
More Videos: