This is an archived article and the information in the article may be outdated. Please look at the time stamp on the story to see when it was last updated.
Authorities were searching for a mountain lion that killed a 100-pound dog in Fontana and repeatedly came at responding officers who shot at the wild animal early Wednesday, according to police.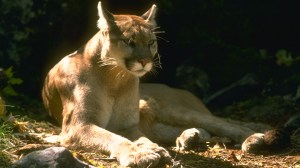 Officers were called to the 4100 block of Foxborough Drive (map) at 3:30 a.m. by a homeowner whose German Shepherd, named Princess, was found dead in his backyard — with a large mountain lion standing over her body, according to a news release from the Fontana Police Department.
The dog's owner had heard his pet "in distress" and then went outside to see the puma displaying "very aggressive behavior," the release stated.
The mountain lion was in the front yard when officers got to the home, where officers shot at it to scare it into a nearby canyon. Foxborough Drive is road lined with homes and ends in the San Gabriel Mountain foothills near the the Angeles National Forest boundary.
But the cougar kept "returning and coming towards the officers in front of the residence a total of four times before disappearing into the canyon," the release stated.
There was no sign the mountain lion had been struck by shots fired.
California Department of Fish and Wildlife wardens were called to the scene and were searching alongside police and a helicopter for the mountain lion, according to the police news release.
"Fontana PD is in complete control of the situation. We're available for advice if they want it," Fish and Wildlife spokesman Andrew Hughan said.
The search was set to continue for 24 hours "until the threat" was "eliminated," the police news release stated.
Speaking to news media on Wednesday afternoon, Fontana police Chief Rod Jones said the search would continue through day light hours.
"We're trying to find this animal because — even though these animals normally are nocturnal — this animal is not normal," Jones said. "Because of the abnormal behavior of this animal, we've taken these extraordinary steps."
Nearby residents were urged to be vigilant, keep animals inside and call 911 if the mountain lion is seen.
The pet's death was unfortunate, Hughan said, but the mountain lion's behavior toward the dog was not unusual, Hughan said. He said that mountain lions are typically more afraid of humans than people are of the wild animals.
"If you live north of the 210, you're going to have lions in your backyard at some point," Hughan said. "The lion was just doing what lions do, which is eat."
Humans who encounter mountain lions should make themselves look large, stand their ground and never run away, Hughan said. More information on mountain lion encounter safety was on the state's "Keep Me Wild" website.