This is an archived article and the information in the article may be outdated. Please look at the time stamp on the story to see when it was last updated.
Rescue crews have suspended their 11-hour search for an 18-year-old woman who plunged from the Huntington Beach Pier Tuesday night and then disappeared into the water below.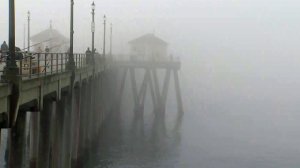 Authorities were told the woman was on the pier and then somehow ended up in the water before a witness lost sight of her, U.S. Coast Guard Lt. Daniel Ippolito said. It was not clear if the woman jumped or fell from the pier.
Some personal items belonging to the missing woman, who was identified Wednesday as Jessy Cook, were left on the pier, Ippolito said. Cook is about 5 feet 11 inches tall, weighs 147 pounds and was wearing a light-colored top, according to the news release.
The Coast Guard was notified of her disappearance about 11:40 p.m., according to a news release issued Wednesday. The search concluded about 10:30 a.m. Wednesday after nearly 137 square nautical miles were covered without success.
"The cold is definitely our biggest concern," Ippolito said, adding that the water temperature was about 60 degrees.
Crews also searched the beach on the chance Cook came ashore on her own, Ippolito said.
Officials initially dispatched a 45-foot response boat, a helicopter and the Coast Guard Cutter Narwhal to search for Cook. Huntington Beach police, Huntington Beach lifeguards and Orange County sheriffs are also involved in the search.
Anyone with information was asked to call the Coast Guard at 310-521-3801.
KTLA's Melissa Pamer contributed to this article.