This is an archived article and the information in the article may be outdated. Please look at the time stamp on the story to see when it was last updated.
Police are searching for a hit-and-run driver Thursday after a truck drove into an apartment building in Anaheim, narrowly missing at least one of the residents inside.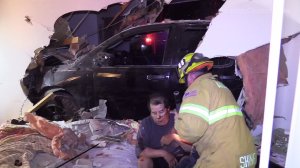 The crash occurred just after 3 a.m. in the 3000 block of East Frontera Street when the driver of a black pickup truck slammed into a first-floor unit of the Five Coves apartment complex, said Anaheim Police Department Sgt. Daron Wyatt.
The truck went into portions of two bedrooms, narrowly missing one resident, said Wyatt, who added that it was a "miracle" no one was killed.
Video from the scene showed a man being treated by emergency responders before being placed on a stretcher.
A total of three adults -- two women and a man -- were hospitalized with minor injuries, Wyatt said.
Witnesses told KTLA one of the neighbors had to come and turn off the still running truck after it crashed into the building.
The driver of the truck, described only as a Hispanic man in his 20s, fled the scene on foot after the crash, Wyatt said.
Video showed the truck had only dealership plates.
It was unclear what caused the driver to veer off the road and into the apartment building.