This is an archived article and the information in the article may be outdated. Please look at the time stamp on the story to see when it was last updated.
The morning after a 60-year-old fisherman went missing after his boat capsized off the Ventura Harbor, the U.S. Coast Guard said Saturday they were no longer searching for the man.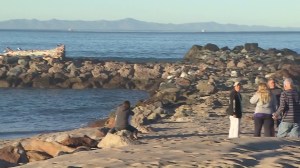 Chris Gregory, an experienced boater and Ventura resident, was fishing with a longtime friend near Marina Park when their vessel was overtaken by a wave, according to the missing man's sister. Although the Coast Guard said the missing man was 65, family said he was 60.
"Things were fine until this rogue wave came in," Vicki Johnson said. "They turned the boat in to the wave, like you're supposed to, and it flipped the boat over and they went flying."
A 5-foot wave toppled the 15-foot Boston Whaler recreational vessel as the two men fished for lobster around 8:30 p.m. Friday, according to the Coast Guard and Ventura City Fire Department.
One of the men swam to shore, thinking Gregory was behind him, but once on land he realized his friend was missing.
Emergency crews were contacted, and a multiagency search began but was temporarily setback when a 6-foot long great white shark bumped a rescue operations swimmer, prompting the removal of searchers from the water, according to Ventura fire officials.
The swimmer was not injured, and the night search continued for several hours by air, watercraft and on shore.
The search resumed Saturday morning when daylight broke, but ended around 8:30 a.m., according to the Coast Guard.
Family and friends, however, remained hopeful that Gregory's experience in the water kept him alive overnight.
"We're hoping that my brother, with his ocean sense, and his common sense, and his toughness, that he is out there clinging to a rock, hanging on waiting to be rescued," Johnson said.
Agencies involved in the effort included around 45 people from the Ventura City Fire Department, Ventura Port District, Ventura County Fire Department, Oxnard City Fire Department, Ventura County Copter 9, state lifeguards, California Department of Fish and Game, a Coast Guard Long Beach helicopter and Coast Guard Channel Islands.