This is an archived article and the information in the article may be outdated. Please look at the time stamp on the story to see when it was last updated.
A 15-year-old boy with autism has been found safe Wednesday and was reunited with his family several days after the teen disappeared from his South Los Angeles area home last week.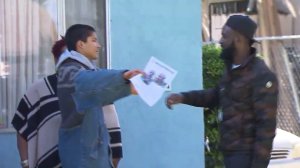 Jaylan Milek Lewis had last been seen about 10 p.m. Thursday when his mother thought he went to bed at their home in the 1500 block of West 111th Place in the unincorporated Westmont area.
Just before 7 a.m. Friday, Lewis' mother discovered he had left the home sometime during the night and reported him missing, the Los Angeles County Sheriff's Department stated in a news release.
Following his disappearance, investigators said Lewis has been diagnosed with high-functioning autism and may be headed to the Westwood area.
A news conference was held Tuesday to ask the public for help in searching for Lewis.
On Wednesday, Lewis turned up in at his grandmother's house in Lynwood after staying in a local shelter, according his father.
The teen was reunited with his family Wednesday afternoon, when he received hugs from several relatives.
No further details about Lewis' disappearance were immediately available.