This is an archived article and the information in the article may be outdated. Please look at the time stamp on the story to see when it was last updated.
Four bicyclists who went missing during a ride in the Angeles National Forest on Sunday were found safe by a Los Angeles County sheriff's helicopter Monday morning, according to the mother of one of the bikers.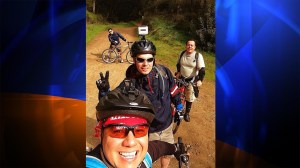 A rescue operation got underway after the bikers were located in Bear Canyon, the sheriff's Altadena Station tweeted.
The four men, ranging from 28 to 38 years of age, went for a ride at approximately 10 a.m. Sunday and were scheduled to be home by 3 p.m., according to Sgt. David Shoemaker of the L.A. County Sheriff's Department's Crescenta Valley Station.
The men were supposed to ride from Mount Wilson to the Jet Propulsion Laboratory Windsor Turnout in Pasadena, but they reportedly got lost, authorities said.
Family members located the vehicles belonging to the bikers at the turnout, officials said. Relatives reported the men missing at approximately 7:30 p.m., which is when the Altadena Search and Rescue team was activated, Shoemaker said. Two hours later, additional personnel from the Montrose Search and Rescue team were requested, according to Shoemaker.
The bikers said they credited their survival to a small fire that they started to keep themselves warm overnight. The four said they had limited food, water and emergency supplies in their backpacks.
"Just very happy to be back. It was a long night. You get the worst ideas," bicyclist Alex Montero told reporters.
Aside from a few cuts and bruises, the men said they were doing fine late Monday morning.
The bicyclists are from Glendale, North Hollywood, Rialto and Sunland, authorities said.
KTLA's Kareen Wynter contributed to this report.