This is an archived article and the information in the article may be outdated. Please look at the time stamp on the story to see when it was last updated.
For the second time in a week, SeaWorld crews on Saturday came to the aid of a humpback whale off the coast of La Jolla after it became tangled in fishing lines from lobster traps and floats.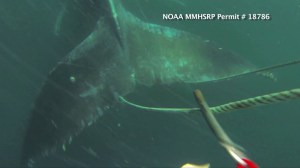 Rescue crews spent about three hours cutting 250 feet of snarled lines from the tail of a roughly 40,000-pound, 45-foot adult whale, said SeaWorld curator of mammals Keith Yip.
"It's a fairly risky, fairly dangerous operation," said Yip, who led the rescue effort with crew members Mike Hopkins and Eric Otjen.
Last Sunday, SeaWorld technicians and Coast Guard crews freed a 25-to-30-foot humpback from similar lobster trap lines.
Click here to read the full story on LATimes.com.