This is an archived article and the information in the article may be outdated. Please look at the time stamp on the story to see when it was last updated.
A SeaWorld animal rescue team claimed they were targeted by hecklers when they tried to help a sick sea lion pup at a San Diego-area beach Saturday.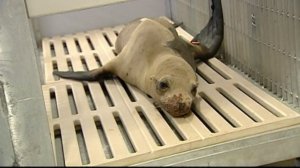 At least one person was throwing rocks at them, the workers said.
The SeaWorld employees managed to get the sea lion safely off the beach and into the care of marine biologists, but only after they left and returned with police protection, CNN reported.
"Thank goodness it didn't make contact, and no one was injured, including the animal," said Kortney Sanders, a SeaWorld employee. "But it definitely created a hostile environment, where we no longer felt safe."
According to the employees, they have faced more harassment since the 2013 release of the documentary "Blackfish," which is highly critical of the methods SeaWorld uses to capture and keep orcas and other marine mammals.
SeaWorld has repeatedly stated its animals all receive the best of care, according to CNN.
CNN contributed to this report.