This is an archived article and the information in the article may be outdated. Please look at the time stamp on the story to see when it was last updated.
Police arrested a second man Friday in connection with a series of dry ice bombs at LAX during the past week.
Miguel Angel Iniguez, 41, was taken into custody at LAX where he is employed as a supervisor for Servisair, a global provider of aviation ground services, according to a news release from the Los Angeles Police Department.
Iniguez was responsible for supervising 28-year-old baggage handler, Dicarlo Bennet, who was arrested earlier in the week, police said.
Iniguez was booked on suspicion of possessing a destructive device near an aircraft. He is being held on $500,000 bail.
On Thursday, Bennett pleaded not guilty to two counts of possession of a destructive device in a public place, according to the Los Angeles County District Attorney's Office.
A bail hearing for Bennett was scheduled for Oct. 23; meanwhile, he was being held on $1 million bail.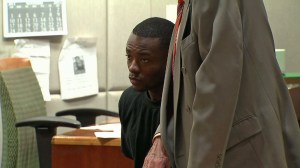 Police arrested Bennett at his Paramount apartment on Tuesday, after two dry ice bombs in as many days exploded at the airport.
No one was injured in the incidents, which occurred in an employee restroom in Terminal 2 and outside the Tom Bradley International Terminal.
The bombs may have been part of a misguided prank, authorities have said.