This is an archived article and the information in the article may be outdated. Please look at the time stamp on the story to see when it was last updated.
Los Angeles police on Wednesday released surveillance footage that showed a hit-and-run driver fatally striking a 58-year-old man in the University Park area the previous night.
The hit-and-run occurred around 9 p.m. at Portland and 23rd streets (map), several blocks north of the USC campus, according to the Los Angeles Police Department.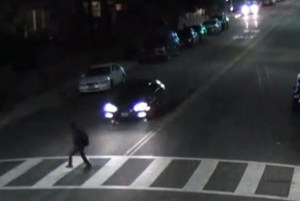 The victim died about 11:30 p.m., according to the coroner's office.
Police and family members who came to the scene of the crash on Wednesday identified the victim as Elias Aceves. They said he lived very close to the site of the collision with his elderly mother, whom he took care of.
Aceves was crossing 23rd Street northbound inside a clearly marked crosswalk when he was struck by a black sedan traveling westbound "at an excessive speed," an LAPD news release stated.
Aceves flew more than 70 feet before landing.
"He didn't even stop at all, or even slow down at all," said Aceves' nephew, David Armenta. "I feel sorry for my grandmother. She lives a block away ... so she's going to pass by here every day."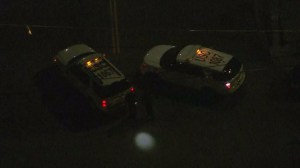 LAPD South Traffic Division detectives obtained surveillance video from USC that showed the collision from two angles, with Aceves clearly illuminated by the vehicle's headlights.
They asked for the public's help in identifying the driver.
The owner of a store on the corner where the collision occurred said the street was dangerous and speeding was frequent, despite the fact that schoolchildren are often crossing to campuses located nearby.
Aceves was a regular at the store, and owner Parminder Singh called him a "great man."
Neighbors said Aceves was quiet but kind and generous.
A backpack, mug and shoes were left at the scene of the crash, witnesses told the USC campus newspaper, the Daily Trojan reported.
More Video: