This is an archived article and the information in the article may be outdated. Please look at the time stamp on the story to see when it was last updated.
A homicide investigation was underway after a security guard was found in the parking lot of a Lancaster strip mall with a fatal gunshot wound to his head Monday night.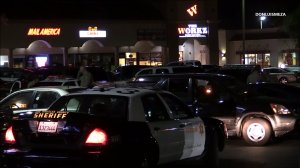 Deputies were called to the strip mall in the 1700 block of East Avenue J on a gunshot victim call at about 7:04 p.m., according to a news release from the Los Angeles County Sheriff's Department.
A 21-year-old security guard was found seated in a car, which was parked in the parking lot, suffering from a gunshot wound to his head, the Sheriff's Department stated.
The security guard was pronounced dead at the scene.
A second security guard was in the car at the time of the shooting, but it was unclear if the victim shot himself or if the second security guard shot him, the Sheriff's Department stated.
The victim's gun was recovered at the scene.
Anyone with information was asked to contact the Sheriff's Department at 323-890-5500.
Those who wish to remain anonymous can call LA Crime Stoppers at 800-222-TIPS (8477).